Accommodations
Grand Bohemian Hotel Asheville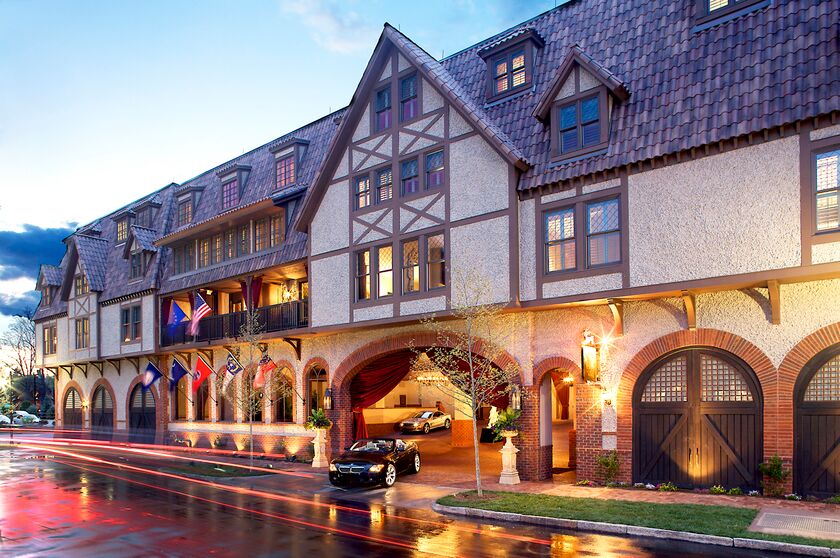 11 Boston Way, Asheville, NC 28803, USA
(828) 398-5519
There is no block of rooms secured at this hotel, however they are offering a 10% discount to wedding guests as long as rooms are available. To obtain this discount, ask the front desk to connect you to Haley Batsel, the Catering Manager. She will help you make your reservation. Complimentary transportation will be provided between this hotel and the wedding venues on October 7. The Welcome Reception for out of town guests on October 6 is at this hotel.
DoubleTree by Hilton Asheville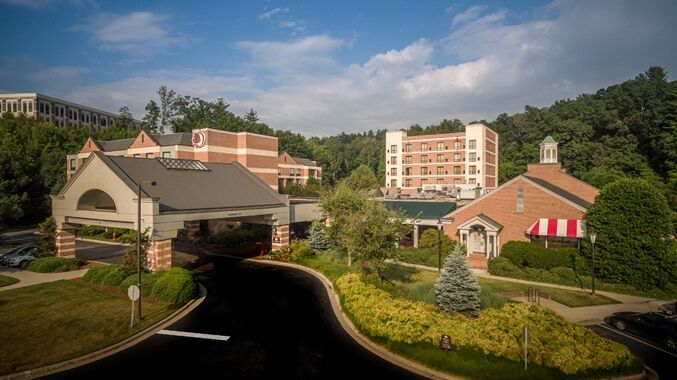 115 Hendersonville Rd, Asheville, NC 28803, USA
(828) 274-1800
We have secured a block of rooms here with a special wedding rate. The special rate will not be available after September 5, when all unreserved rooms will be released to the general public. Complimentary transportation will be provided between this hotel and the wedding venues on October 6 and 7.
Biltmore Village Hampton Inn & Suites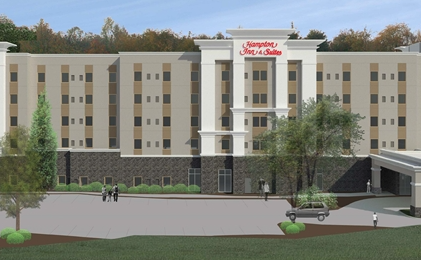 117 Hendersonville Road, Asheville, North Carolina 28803, USA
(828) 277-1800
We have secured a block of rooms here with a special wedding rate. The special rate will not be available after September 5, when all unreserved rooms will be released to the general public. Complimentary transportation will be provided between this hotel and the wedding venues on October 6 and October 7.
Hilton Asheville Biltmore Park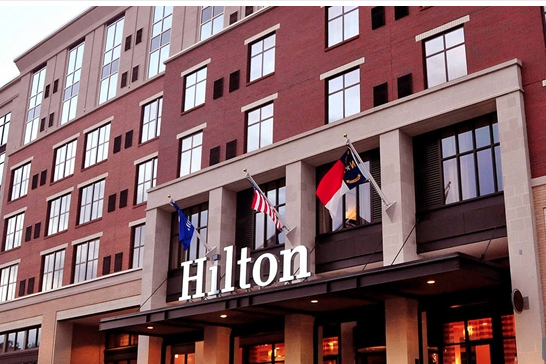 43 Town Square Blvd, Asheville, NC 28803, USA
(828) 209-2700
We have secured a block of rooms here with a special wedding rate. The special rate will not be available after September 5, when all unreserved rooms will be released to the general public. This hotel is located in a fun residential/shopping/entertainment complex about 5 miles from the wedding venues for Friday and Saturday nights. Unlike the other 3 hotels, the Glasgows have not arranged for any complimentary transportation from this hotel, however, Asheville has Uber! This is a great, safe alternative for getting around the city.
Travel and Transportation
Asheville Regional Airport

Terminal Dr, Fletcher, NC 28732, USA

Conveniently located in South Asheville just off of I-26.
Greenville-Spartanburg International Airport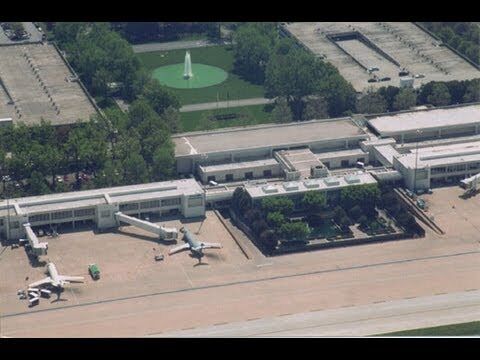 2000 GSP Dr, Greer, SC 29651, USA

Located approximately 78 miles away from Biltmore Village.
Charlotte Douglas International Airport

5501 R C Josh Birmingham Pkwy, Charlotte, NC 28208, USA

Located approximately 124 miles away from Biltmore Village.
Things to Do
One of the Most Beautiful Small Towns in the U.S.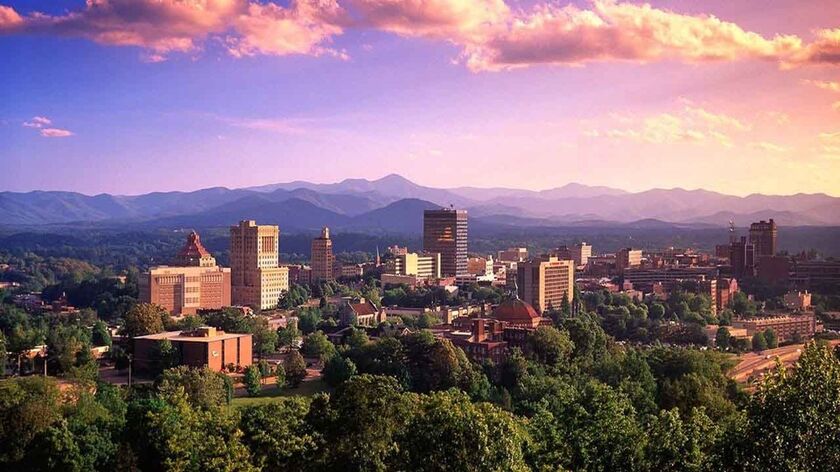 Kelly and her parents lived in Asheville when she was a young girl, and her family currently has a summer home there! Brian visited several times over the past year, and seeing how special this place was to Kelly, he chose the Biltmore Estate as the perfect spot to propose to Kelly last Thanksgiving!
Asheville consistently has been voted one of the best getaway cities. It is a unique mix of techies, hipsters and artists along with more traditional residents and retirees. It has a rich history with the Vanderbilt's Biltmore Estate, America's largest private home, as well as many of-the-moment enticements. Add miles of panoramic vistas of the Appalachian and Blue Ridge Mountains and a visit to Asheville offers something for every sensibility.

We have intentionally planned no day time activities for Saturday or Sunday of the wedding weekend, so that you can get out and enjoy our town! We are looking forward to having you visit in October. Below you'll find some of our favorite activities and we hope that during your visit, you'll "fall" in love with Asheville like we have!
Biltmore Estate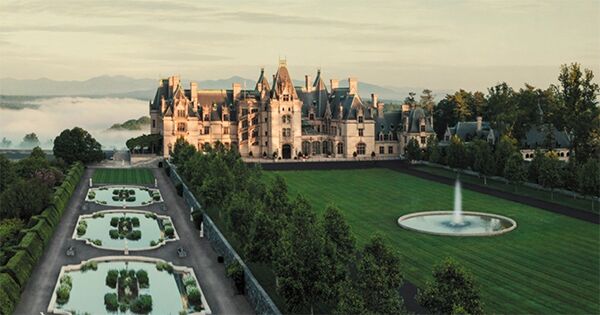 1 Lodge St, Asheville, NC 28803, USA
(800) 411-3812
Visit the Biltmore Estate and see where Brian asked Kelly to marry him.
Biltmore House & Gardens
The Biltmore House is still the largest, private family residence in the United States. Start your visit to the Estates with coffee and a pastry from the Bake Shop. Then take a tour of the grand Biltmore House.The luxurious family home of George and Edith Vanderbilt is a marvel of elegance and charm, as magnificent today as it was more than a century ago. After exploring the house, stroll through the beautiful gardens, designed by Frederick Law Olmsted (famed Central Park creator). The stunning gardens have been included in the Top Ten Botanical Gardens of the World by Travel + Leisure.
Dine and relax over lunch at any of their fabulous restaurants. The Stable Café is next to Biltmore House. If you're visiting on Saturday or Sunday, try brunch at Deerpark Restaurant. On your way to Antler Hill Village stop by The Inn on Biltmore Estate for high afternoon tea (advanced reservations required).
Antler Hill Village & Winery

In Antler Hill Village you will experience even more of the Biltmore story. Stop at the Outdoor Adventure Center to embark on an afternoon adventure! Whether it's horseback riding, hiking, sporting clays, or Land Rover tours, the Outdoor Adventure Center has something for everyone! You can also relax on the Village Green, learn about the Vanderbilts in an exhibition in The Biltmore Legacy, and take a stroll through the Farm. Consider a delicious meal at Cedric's Tavern, followed by a complimentary wine tasting at the Winery!
**Be sure to book your tickets to the Biltmore House and many of other fun activities on the Estate well in advance to ensure you get a reservation during peak leaf season!

Sierra Nevada Brewing Co.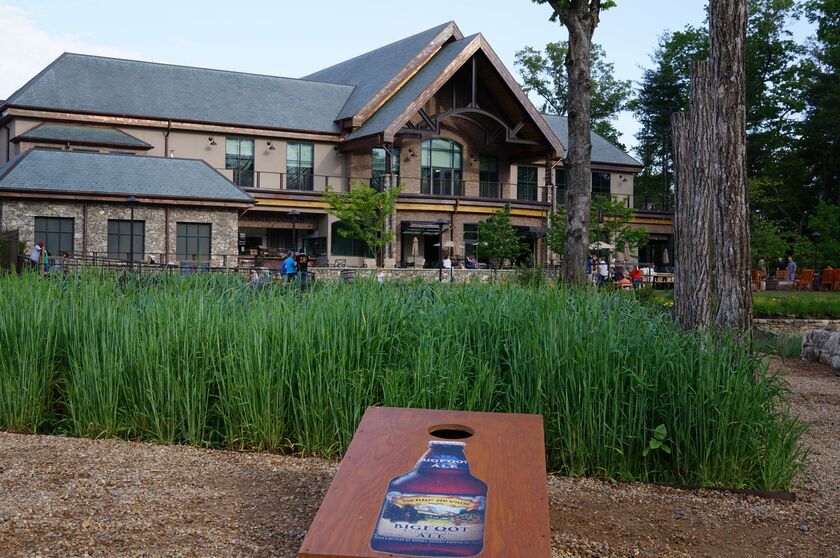 100 Sierra Nevada Way, Fletcher, NC 28732, USA

Explore the brewery nestled in the Appalachians.
The first batch of beer was brewed in 1980 in Chico, California, and the lush forests of North Carolina far from their minds. Over three decades, folks tried the bold beers and deemed them fit for friends across the country. Today you can venture inside the Mills River brewery to trace their history as a craft beer pioneer and see first-hand their drive to make flavorful beer the status quo. The Brewery has been designed with guests in mind! Their upstairs Visitor Corridor (no advanced reservation required) includes a raised mezzanine for bird's-eye views of the copper-clad brewhouse, a real-time look at fermenting beer and a visit to the warehouse and packaging hall. Their tours fill up quickly! You must make reservations online for all tours including the Brewhouse Tour, Beer Geek Tour, Women in Beer Seminar, and the Guided Educational Tasting,
Mills River Taproom - Great beer and incredible food with a Southern craft focus.
Western North Carolina is known for its love of food and passion for great craft beer. At the Mills River Taproom and Restaurant you'll find an abundance of both. Visit the Taproom to sample one of the 23 beers on tap, many produced just a few feet from the restaurant. Beers are accompanied by artful, chef-driven food focused on small plate, sharable, whole animal and farm-to-table dishes sourced mainly from local suppliers. While you're there, grab a beer and head outside to our Back Porch and Beer Garden to take in the views of the beautiful forest or stroll through our Mills River Estate Garden. They use the homegrown vegetables and herbs for the restaurant and small-scale pilot brewery. Asheville locals say that this brewery has one of the most fun atmospheres to view the Blue Ridge Moutains!


Asheville Hiking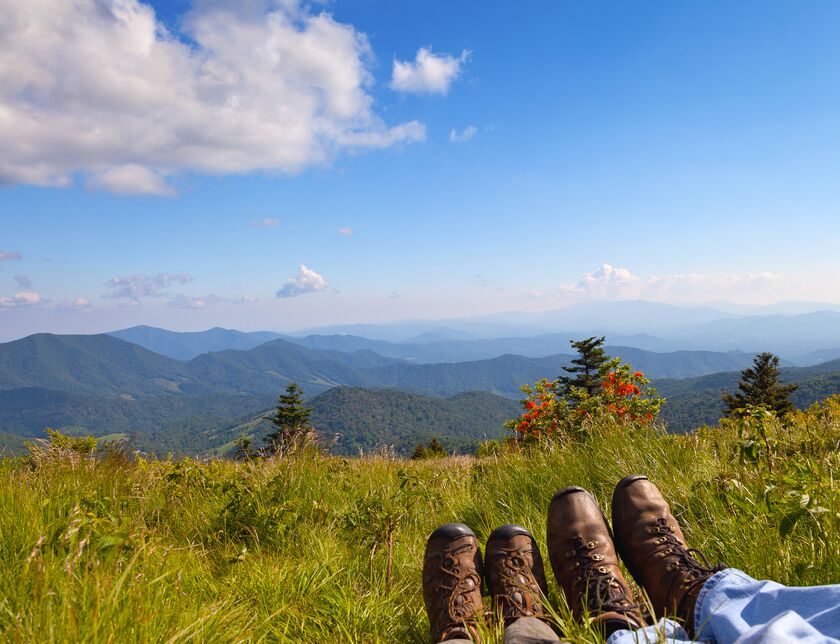 Choose Your Own Adventure
Thousands of miles of trails twist, meander, dip and climb through the peaks and valleys around Asheville. In this world-class hiking destination, you can take your pick from peaceful hikes along mountain streams and technical scrambles up steep terrain; hikes that are short and sweet and multi-day adventures. Some hikes give you a view into the region's past, and some just give you views of ridge after ridge of Appalachian mountain beauty.
You could spend a lifetime trekking the wild and well trodden trails of Western North Carolina (many people have!). But if you've got a shorter window of time, here are hikes to start with, with selections tailored to your taste in trails.
Tree Waterfalls Hike: DuPont State Forest is the best place to discover why Brevard and Transylvania County is called "The Land of the Waterfalls." Get a sampler of some of the area's wonderful waterfalls with a (mostly) easy hike to Hooker Falls, Triple Falls, and High Falls. Accessible for kids and the trails that connect the falls are scenic and include picnic spots. Fans of The Hunger Games and The Last of the Mohicans will recognize some of the scenery.
Craggy Gardens (1.5 to 3 miles, moderate): For one of the best panoramic mountain views in western North Carolina, hike the 3/4-mile Craggy Pinnacle Trail to the observation area. Also hike the Craggy Gardens Trail between the picnic area and visitor center through rhododendron that bloom in June.

Devil's Courthouse (1 mile roundtrip, moderate): Short but steep trail climbs a half mile to the peak for spectacular views. The bare rock profile named Devil's Courthouse is sinister in appearance and legend.
Max Patch on Appalachian Trail (1.4 or 2.4 miles, easy): Hike a section of the famous Appalachian National Scenic Trail (or AT) near Hot Springs. What a picnic spot with 360-degree mountain views! The 1.4-mile short loop crosses the summit. The 2.4-mile loop circles the mountain for outstanding views from all the sides. Or extend your hike in either direction of the AT.
Chimney Rock Park Hikes (1 to 4 miles, easy to strenuous): Hike a variety of trails with spectacular views of Hickory Nut Gorge or a 400-foot waterfall. Often overlooked, the challenging Four Seasons trail begins near the Meadows and takes you through a beautiful deciduous forest and boulder fields.
Highest Mountain in Eastern USA: Mt. Mitchell: Since you can drive almost to the top of highest summit ;east of the Mississippi, it's just a short walk (but uphill) on a paved trail to the observation deck. Mt. Mitchell State Park (free admission and located off the Parkway) is a must-see for anyone looking for elevation! The Deep Gap Trail starts from the summit parking lot and takes you to Mt. Craig, the second highest peak in the eastern USA. It has great views from it's summit also.

Mount Pisgah: The 5,721-foot summit can easily be seen from downtown Asheville. Likewise, after a steep climb through hardwood forest, Asheville is clearly visible 16 miles away. Mt. Pisgah is like the Eiffel tower, probably the most recognized high point of Western North Carolina. After you see the iconic transmission tower up close and personal, you'll recognize it from other points. Just like the Eiffel Tower, it's popular and crowded, especially on sunny afternoons.

Navitat Canopy Adventures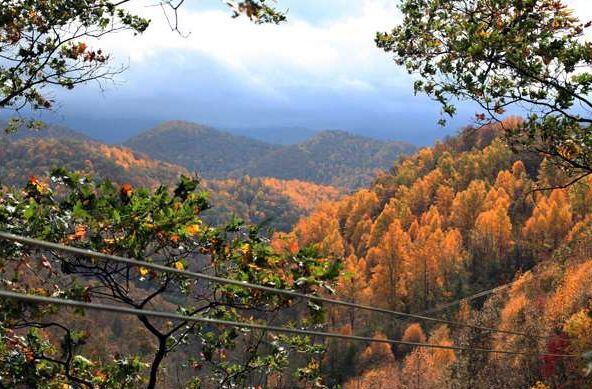 242 Poverty Branch Rd, Barnardsville, NC 28709, USA

Zipline through the beautiful mountains of Western North Carolina during this fun, exciting experience! Located only 34 miles away from Biltmore Village, Navitat Canopy Adventures is the best way to experience the vibrant colors of the fall leaves!
Biltmore Village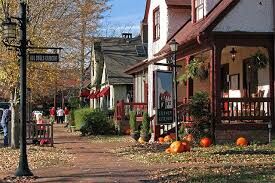 Asheville, NC, United States

Biltmore Village was conceived by a visionary millionaire, designed by world-renowned architects and home to humble estate workers, Biltmore Village was created as a counterpart to Biltmore Estate. It was a planned community for estate workers as well as an independent community all its own.

It has evolved and changed in the years since. Today, it is hard to classify the village. It's a bustling, contemporary shopping destination – home to both national retail outlets and one-of-a-kind independent shops. It's the perfect night out for foodies and friends. It's a must see site for history buffs and architecture aficionados. Whether its Williams Sonoma, Brooks Brothers, Lilly Pulitzer, J. Crew, or a host of independently owned shops, Biltmore Village is a perfect representation of Asheville's flair for design and fashion while being rooted in the Biltmore Legacy.
The Omni Grove Park Inn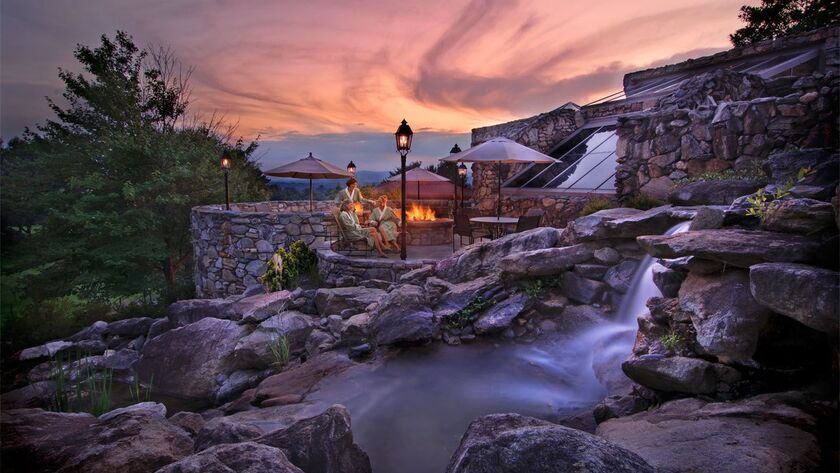 290 Macon Ave, Asheville, NC 28804, USA

After all that physical activity, ease those tired muscles by pampering yourselves at The Spa at Grove Park Inn - a 43,000-square-foot subterranean spa where you can take a swim in two therapeutic waterfall pools or indulge in an outdoor massage overlooking the Blue Ridge Mountains. Wrap up the in luxurious spa robes with a glass of champagne over great conversation around the spa's fire pits. Appointments book up fast, so reserve your appointment today!
Afterwards, enjoy a refreshing cocktail and small bites on the Sunset outdoor terrace overlooking the mountains. Then enjoy some of the finest, locally sourced restaurants in town that will certainly delight the foodie in you. From restaurants to bars to terraces with breathtaking mountain views, there are so many ways to please your palate at the Historical Grove Park Inn.
Dining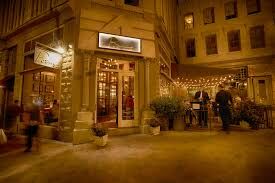 Asheville, NC, United States

Asheville has become a major attraction for world-renowned chefs and culinary artists. Before coming to the welcome reception Friday evening, try one of Asheville's many phenomenal restaurants. Our favorites include Spanish tapas bar Curate (helmed by alumni of world-class restaurant El Bulli in Spain) and Posana, a 100% gluten-free restaurant downtown with outdoor seating. Drink a toast to us of Pappy van Winkle at Rhubarb next door, which also features great food by Blackberry Farm's former head chef. Be forewarned that many require reservations weeks in advance, so book your reservation today! Your taste buds will thank you!